I don't know if I was always an outdoor sort of person but I have found since being a Mom, the great outdoors is extremely important to me. Of course, I still hibernate in the Winter for NH is too cold for this gal, but any other time of the year you will find me outside as often as possible.
While I am outside walking around, my eyes are always in tune with the ground area for some reason. I take in the dandelions, the small spiders, the ants and once in a while walking I happen upon a toad or a turtle.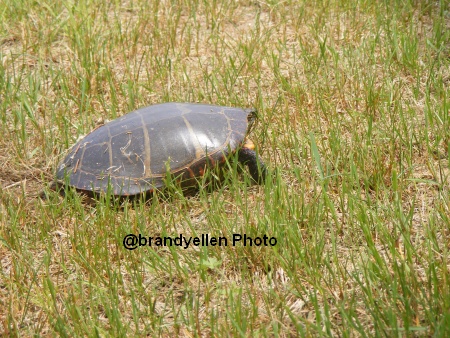 I sat outside for hours just watching this turtle while she finished up laying her eggs and covering the hole. Sad thing is, we have seen two turtles laying eggs but we caught them at the tale end. Have yet to see the actual eggs dropped into the hole.
Each night we take a family walk around the pond. Usually we see frogs but sometimes we see other animals and it's simply a relaxing way to end our day. I could sit outside at the pond for hours if the kids would let me.